Hire a Certified Arborist – Your Trees Will Thank You
Tree Service St. Petersburg Florida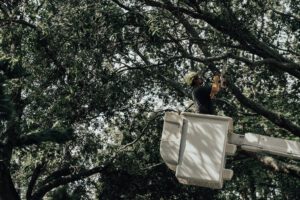 Do you need tree service in St. Petersburg, Florida? Arbor Source Professional Tree Care is a local, licensed & insured, ISA certified, tree service in St. Pete.
Tree care is an important task that requires specialized knowledge, experience, and equipment. Therefore, it's important to choose the right professional tree service company in St. Pete to ensure the health, safety, and beauty of your trees. However, with so many companies that claim to offer the best tree service, it can be overwhelming and confusing to choose the right one. Being in the tree service industry for some time, we would like give you some tips on how to choose the right tree service company in St. Petersburg for your trees.
Check for certification and insurance – One of the most important things to consider when choosing a tree service company is their certification and insurance. A reputable tree service company should have certified arborists who have received the necessary training and education. Also, they must have liability and workers' compensation insurance to protect you and your property in case of any accidents or damages during the tree service. Arbor Source Professional Tree Care has all these.
Look for experience and expertise – Tree service is not a job for amateurs. To ensure the best results, choose a tree service company in St. Pete that has years of experience and expertise in tree care. Ask for their portfolio, references, and customer reviews to assess their quality of work and satisfaction level of previous clients. Arbor Source Professional Tree Care can share this with you.
Ask for an estimate and contract – Before hiring a tree service company, make sure to ask for a written estimate that details the scope of work, cost, and payment terms. Also, ask for a contract that outlines the terms and conditions of the tree service, including the start and end date, guarantees, and any other relevant information. Arbor Source Professional Tree Care can do that for you.
Check the equipment – Tree service requires specialized equipment and tools that can handle different tree sizes, conditions, and locations. Therefore, check if the tree service company has up-to-date equipment and tools that are maintained regularly. Additionally, make sure that they follow safety standards and protocols to avoid any accidents or damages. Arbor Source Professional Tree Care does all that.
Consider value and customer service – Lastly,
choose a tree service company that offers value for your money and excellent customer service. This means that they should provide competitive pricing, quality work, and friendly and responsive communication. They should also educate you on tree care and maintenance to help you make informed decisions about your trees. Arbor Source Professional Tree Care does all that.
Tree service is an investment in the health and beauty of your trees and property. Therefore, it's important to choose the right tree service company in St. Petersburg that has certification, insurance, experience, expertise, written estimate and contract, updated equipment, and excellent value and customer service. By following these tips, you can ensure the best tree service for your needs. Contact Arbor Source Professional Tree Care today to get a FREE estimate!
Martin Raucher
July 12, 2023
Great work at a great rate. Called them up and got a fair quote same day and got the work scheduled very easily. The team came out and got it done quickly and safely. The trimmed back the massive tree and did not hit my fence or damage any of my, or my neighbors, property. Great work - highly recommend!
April Van Buren
July 6, 2023
Amazing service! Would highly recommend. Woke up to having 1/2 of my tree fallen on my cars and fence. Received a great same day estimate. Foreman Jeff and his crew arrived within hours, had everything removed, debris cleaned faster than I could have imagined. Even helped put part of the fence back together. Arbor Source and Entire crew was friendly, professional and very hard working. Feel blessed. Thank you Phil & Jeff.
Chris Haworth
June 3, 2023
Arbor Source has been caring for my trees for years. It was finally time to remove my old, dying laurel oak and it broke my heart but needed to be done. The crew was wonderful, as always, and worked like the dickens all day until the job was complete. I would never dream of using anyone else for my tree care.
Shawn Chayban
May 26, 2023
Caitlin was absolutely amazing. She totally under promised and over delivered. She hooked me up big time on price. Ask for Caitlin. Promise you she won't disappoint.
Nathan Moore
April 24, 2023
Overall they did a great job. Caitlin went above and beyond to ensure I was happy with the results - and was willing to take the time to listen to my concerns about taking out a laurel oak (we ultimately did). She gave me several options with that tree, and not all companies would. The crew had a minor issue with the stump grinder, and were back in less than a day to finish the job - again, not all companies would do that either. And to top if off I complicated things with a freight delivery where we had to shuffle vehicles around the block. They were very thorough with cleanup, and it came out great. That's commitment. Thank you.
Marcia Ross
March 16, 2023
We have a large cedar tree that needed a good trimming. Their crew was professional & very safety conscious. Thank you Caitlin & Jeff for a great job.
Andrea Moore
March 15, 2023
If anyone needs a tree service company, definitely give Arbor Source Professional Tree Care a call. Reasonable pricing, professional on-time crew and they did a great job removing and trimming trees. Other companies were charging more and not grinding stumps or removing the debris, so I'd have to call another company to haul it away and some told me I'd have to wait 6 weeks. Two other family members then also happily used this company because the service was so great. They're certified arborists and based in St. Pete but they came north in Pinellas to Tarpon Springs and all the way across to North Tampa for three different jobs. They have the huge equipment needed for big jobs that some smaller companies don't have. Everything from quote to completion was done on time or even earlier than expected and they have the best communication at every step of the way. I can't say enough good things about this company and their employees.
Eric Thered
March 9, 2023
Caitlin was knowledgeable and professional. The service did a great job for a fair price on our very large live oak tree. They arrived on time and cleaned up tree debris. I would certainly recommend them and will use them again.
Jim Hampton
February 2, 2023
From our first phone conversation, to in-person appraisal, thru completion, Phil and his team were consummate professionals. From the handling of the equipment, to the care spent with removing a large diseased oak to cleaning up fifty years of neglected trees and removing pesky invasive species, foreman Jeff and the crew proved they are THE source for all our arboreal needs. They explained everything and stayed in constant contact throughout the job. Tree removal is not cheap nor should it be if done right. That said, Price point was perfect and very competitive. You get what you pay for as they say, and we asked for and received expert care. Thank you, Arbor Source. We will call again and do certainly recommend.
Over time, trees can develop hazards like dead or weak branches that can break and fall, posing a significant threat to anything beneath them. Tree trimming can help identify these hazardous branches and remove them before any damage or injuries occur. Trimming also helps trees maintain their natural shape, preventing them from becoming too heavy on one side, which can lead to the tree tipping over and damaging property or even people.
Regular tree trimming can save you a lot of money in the long run. By avoiding any safety hazards and ensures that trees are healthy, you avoid any damages to property or people that may occur. Additionally, well-maintained trees promote healthy roots, reducing the risks of spending thousands of expensive dollars having to remove the entire tree.
Pruning trees is another essential part of tree trimming that aids in tree health. Cutting out the dead or dying branches allows for more sunlight to get to the tree's middle, promoting new growth and healthier foliage. Additionally, the trimming process removes diseased parts of the tree that can cause an infection to other sections of the tree and harm its overall health.
Remember to always hire a professional arborist to trim or prune your trees and avoid making cuts yourself, as this can lead to unexpected damages and a hazardous environment. By investing in regular tree trimming or pruning, you'll be investing in your property's overall health and well being.
Tree Removal in St. Petersburg
Trees are an integral part of our ecosystem and provide numerous benefits to our surroundings. They help in purifying the air, providing shade, retaining soil moisture, and creating habitats for various species of birds and animals. However, there are situations where trees have to be removed for safety, aesthetics, or damage reduction reasons. While it may seem like an easy task, tree removal is a complex process that requires specialized skills and equipment.
Tree removal is a hazardous task that should only be done by a professional with proper training, safety gear, and equipment. Cutting down a tree can result in serious injuries or even fatalities if proper safety procedures are not followed. Professional tree removal companies in St. Petersburg are trained to handle such situations safely and efficiently. They have specialized equipment like cranes, ropes, chainsaws, and protective gear to ensure the safety of the workers and the surrounding property.
By using professional tree removal services in St. Pete, you can save both time and money. Attempting to remove a tree on your own can be time-consuming and costly, especially if you don't have the appropriate equipment. Also, if the tree was damaged due to a storm or other unforeseen event, you may be eligible for insurance coverage for the removal costs.
Tree removal is a complex and hazardous task that requires proper knowledge, skills, and equipment to complete safely. Hiring a professional tree removal company in St. Pete is the best way to ensure that the removal process is done efficiently, safely, and without any damage to the surrounding property. They can also provide expert advice on tree maintenance, disease prevention, and landscape design. Contact us for all your tree removal needs, and let us help you keep your property safe and beautiful.